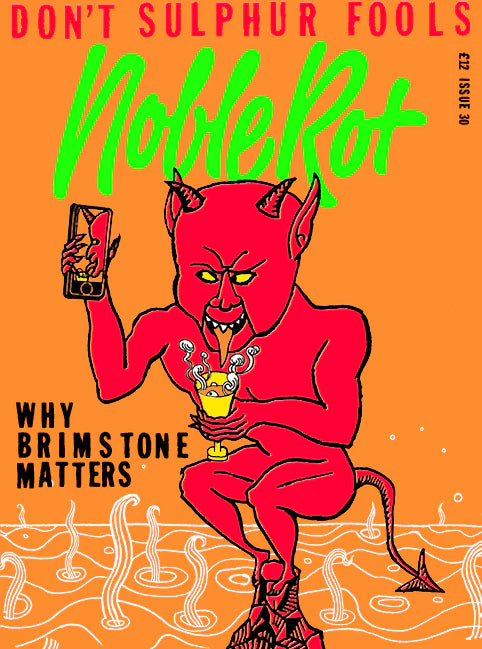 Noble Rot - Issue 30
Regular price
£12.00
/
Tax included.
Shipping
calculated at checkout.
---
24+ in stock

Inventory on the way
Are the Sulphur Wars – the exhausting ideological battle over the addition of SO₂ that has polarised the natural and traditionalist wine scenes – finally coming to an end? Judging by the recent softening of rhetoric from previously purist quarters, we dare to hope. Here at Rotter Towers, we've always valued an open mind above generalisations, celebrating the best zero/ low-sulphur wines alongside decidedly unnatural classics from the '70s and '80s. So we're delighted that divisions over one of the most important methods for wine preservation and hygiene are fast giving way to a middle ground. Here, we report on how adding the tiniest amounts of brimstone – the ancient name for sulphur – can mean fewer mousey, oxidised, or otherwise bogging wines.
Also in this issue…
… interview rapper/ actor Kano – A.K.A Sully ­from Netflix gangster classic Top Boy – and the TV star who almost single-handedly taught Britain, and almost certainly your mum, to cook: Delia. Fellow culinary legend Angela Hartnett talks to the icon – for whom, like Pelé just one name suffices – about everything from her days at the BBC to owning Norwich City FC, while Kano waxes lyrical about his burgeoning love of wine.
…travel to Saint-Joseph in the Northern Rhône Valley to meet Jean-Louis Chave and Jean Gonon, and profile Corsica's Sciaccarellu, France's tiniest domaines, the wine-centric area of New York City that you should not call Dimes Square, and the old-school Napa wineries that are being bought up in their dotage.
Elsewhere, Henry Harris professes his love for fatty foods, Alice Feiring reflects on temporarily losing her smell, Marina O'Loughlin reviews Vasco & Piero's Pavilion, anti-social agony uncle John Niven answers readers' questions, Brawn's Ed Wilson kicks off our new series on cooking with wine, Kate Spicer tells us why she can't love any restaurant that doesn't love her dog, and Simon J Woolf reports on how vignerons are eschewing the use of new oak. Roll out the barrel!