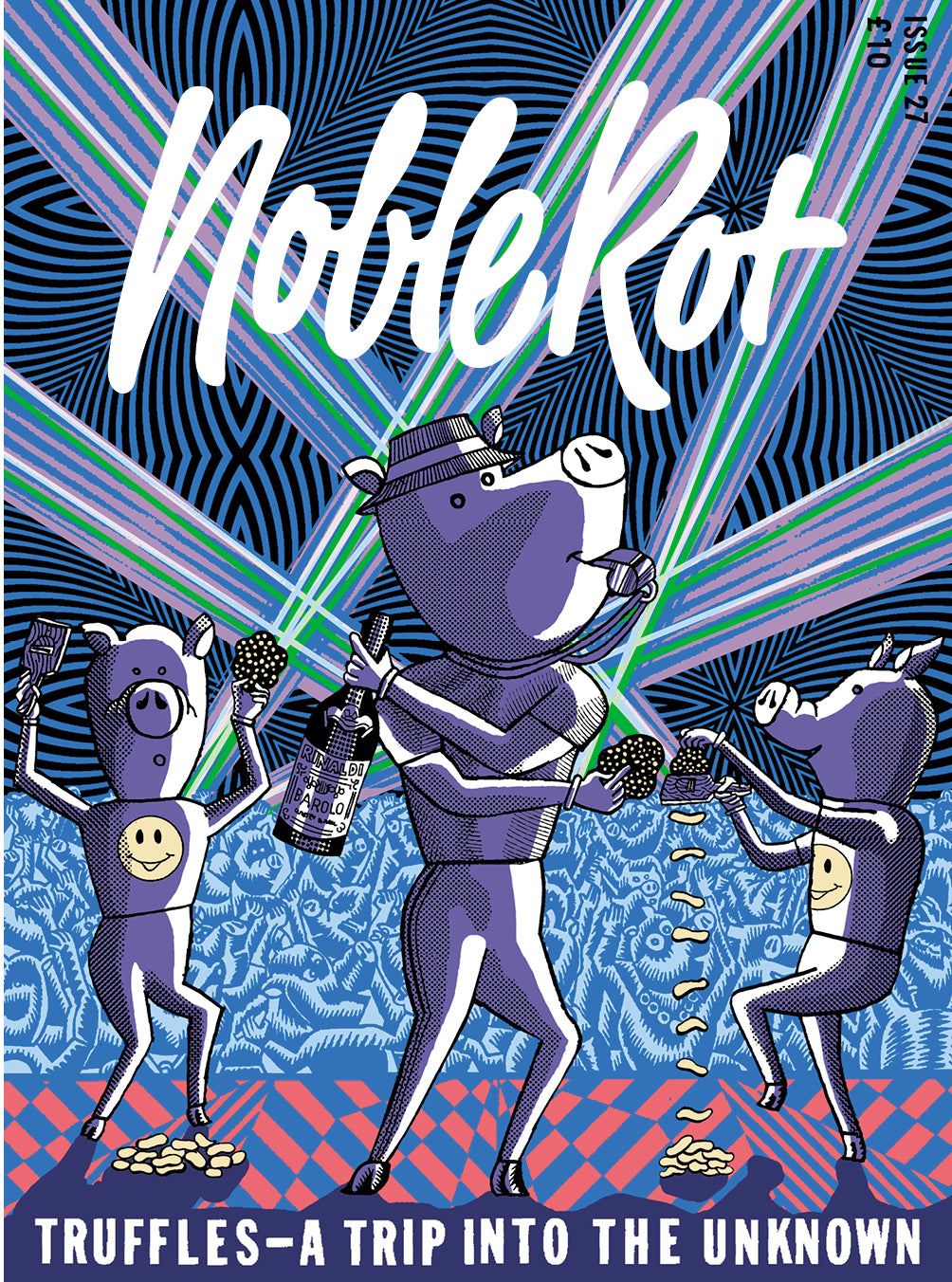 Noble Rot - Issue 27
Regular price
£10.00
/
Tax included.
Shipping
calculated at checkout.
---
24+ in stock

Inventory on the way
Noble Rot - Truffles - Trip Into The Unknown
Introducing Noble Rot 27, another cordial collection of writing about wine and food, fact and fiction, the quite serious and the not very serious at all. In this issue ...
we present the definitive wine lover's guide to truffles, with tips from Kermit Lynch, Clare Smyth, Brett Graham and Carlotta Rinaldi (whose interstellar Barolo is fêted by our raving truffle pigs on the cover).
…meet some of Burgundy's most exciting new domaines and winemakers, including Charles Lachaux of Arnoux-Lachaux and Domaine Dandelion.
… interview novelist Irvine Welsh, who reminisces about his little-known stint as a wine columnist for Marmalade magazine (Typical headline: "We boozy Brits are bananas for bubbly"), a near-death experience in a Californian swimming pool, and the positive effects of European immigration on British food culture before you-know-what.
… take a post-lockdown tour of Paris' best restaurants and wine bars, including Septime and Parcelles. The last time we wrote a guide to the City of Light was back in autumn 2014 (Noble Rot 6), after which we returned to London inspired to start our own place. This time around, we look at how many venues have made it through the challenges of the last 18 months, and what is new on the scene.
…hear about Diana Henry's 'Greatest Ever Meal' at Moscow's White Rabbit.
Meanwhile, we offer our usual quota of wide eyed wine and food wonderment, including Fay Maschler on cooking for dull people, Simon Hopkinson's game bird accompaniments, Jon Bonné on the other side of Bordeaux, plus stories and profiles about Condrieu, pét nat, saltiness in wine, nobs spraying Champagne in nightclubs, the lost art of the savoury, and the obscure world of chicken Kiev Facebook groups, among much more. Someone's gotta do it.